Last Updated on May 16, 2023 by Heather
I was sitting here looking around online to see if there was much discussion on this topic. Primarily because it is always something we tend to discuss right after we return from a trip to Disney World. There is a handful of companies that make Disney scented candles, so I set out to find the best of the best.
I love the smells of the park in particular. One of my favorite parts about the parks are all the different smells depending on what resort you're in, what part of the park you're in, or what ride you're on. I just I can't get enough of those fake Disney smells that are pumped in from a five-gallon bucket somewhere backstage! (Actually, they are)
So who makes the best Disney scented candles? Well, that's purely subjective. It's the nose of the beholder that makes that decision. But we've found 5 magical companies, in particular, that will take your senses right back to Disney World. Whether it's the smells of the bakery while walking down Main St. USA in the Magic Kingdom or the smells of the Polynesian or something even more unique. These companies seem to cover the gambit of every smell that you are missing on a daily basis when you get home from your Disney trip!
Bowes Signature Candles
If you have ever been walking around in the Marketplace Co-op in Disney Springs you have probably seen Bowes Signature Candles. They have crafted many scents that you will recognize from around the Disney Resort. Their scents are great for those of you who don't want an overpowering candle.
The folks over at Bowes Signature Candles were kind enough to send over three of their scents for us to try: Poly Hawaii, Resort Signature, and Clover World.
Our personal favorite is Poly Hawaii with the gentle smells of coconut and tropical flowers. Another great scent from Bowes, Resort Signature, is a nice combination of lemon, bergamot woods, musk, and berries. The fan favorite, Clover World is a delightful mix of citrus and musk. Bowes offers a 15oz candle for $21. They also offer a linen spray, wax melts, diffuser oil, and reed diffusers ranging from $12 to $38 depending on the product that you order.
Click Here to take a look at their great collection, I am confident that you will find a scent that you will love.
Magic Candle Company
Magic Candle Company was one of the first Disney scented candles we purchased. I was absolutely shocked to find out how on-point their scents were and how well they can fill a room. They have smells from resorts, rides, foods, you name it. These scents bring you right inside Disney and will help you reignite that Disney vibe you had while you were at the resort. The metal containers that these came in were absolutely perfect. Most candle companies do not ship in metal containers. Which in turn means fewer problems with broken candles arriving after being shipped to you.
Secondly, they have wood wicks. Wood wicks are insanely easy to use. The flame is horizontal while burning so your candles will achieve a melt pool much quicker. That means that your candle scent will fill a room much faster than any traditional candle. There is also no mushroom and minimal carbon buildup while burning. Big kudos to Magic Candle Company on the pure construction of their candles, let alone their wonderful scents. We have fallen in love with so many of their scents that it can be tough to pick a favorite. Pirate Life is one of their top sellers and it is for good reason. I was skeptical at first thinking it would smell like damp water but it has quickly turned into a family favorite in my house.
Magic Candle Company's biggest candle, however, is a 14 oz. candle and is $25.95 plus shipping. Click here to get 15% off your order!
Wishes Candle Co.
Wishes Candle Co. feeds two of my obsessions awesome smelling candles and Disney pins! Each candle has it's own mystery Disney pin inside! Yes, they are usually scrap pins that you would trade off inside the parks. But honestly, that's perfect because then you aren't actually going out hunting to buy Disney scrap pins that you can trade in the parks.
Wishes claim to be handmade from wick placement to wax pouring and even label placement. They also claim to be vegan, made of soy, grown in the United States, with 100% cotton wicks.
Wishes prices are very attractive and typically are $28 for a 16 oz. candle (plus shipping). They have some very particular scents like Bag of Beignets and Life's Bare Necessities which is a very fruity mix.
Spireside Candles
Formerly Anthology candles and they were well known for their Disney candle sets. These guys are really well known for their Disney food scents. I'm here to tell you, that if you are a Disney foodie like myself then these candles will definitely ignite your hunger for the parks. Candles, wax melts, and tea lights are their primary offerings, but the offerings they have are different than the norm in my opinion (which is good!).
Spireside offers scents like a Churros fresh from Epcot or Pineapple Delight, which smells just like a dole whip from the Poly! Their scents are fantastic and spot-on, but their prices aren't so great at $36 plus shipping for 16 oz. candle. I'm not solely convinced on the "you get what you pay for" analogy in this case. That is unless you are looking for a scent that only they carry. Which is very plausible since it would appear that not too many other places carry the same amount of Disney parks food smells that they do.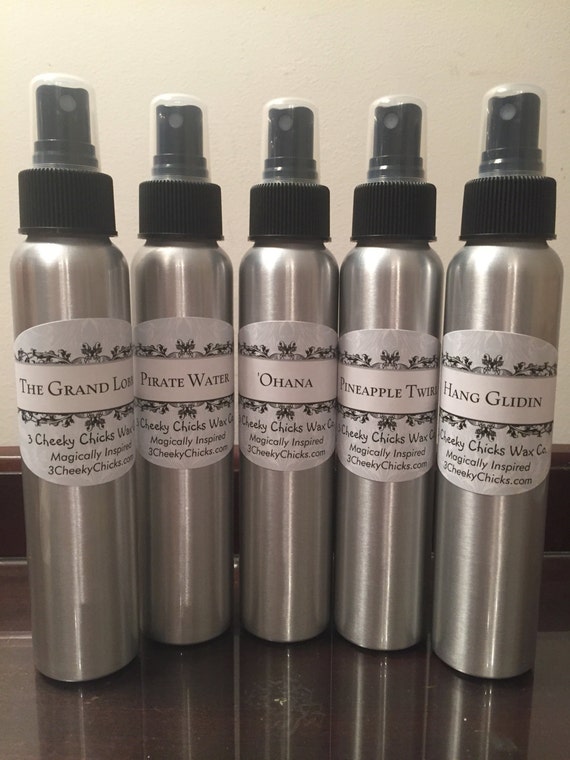 3 Cheeky Chicks Wax Co.
I have to admit. I have a soft spot for this company since they are friends of friends. But they don't know that and so I'm going to be as honest as I can with my review of their product and what they have to offer.
So, with that said right up front here's what they offer. Handmade wax melts, candles, room sprays, and tea lights. …………
Wait a minute…..  did you say Room Sprays??!!
Yes, they offer some of the most spot-on room sprays that you can buy. I have to say that we use the rooms sprays in the car frequently. There's nothing like driving home after a stressful day and spraying some Ohana or Hang Glidin (Soarin themed) in my car! Psst: 3 Cheeky Chicks… if you ever make air fresheners (email me). They also offer Pirate Water (like every other Disney creative candle company out there on the planet) which is supposed to be scented after the water on the pirates of the Caribbean ride.
Now their site isn't too implicit on exactly what the largest size of candle they offer is. But from what we can gather their largest candle size is 8 oz. and costs around $14.40 plus shipping. Not awfully priced, but not cheap either. We feel you get what you pay for with the sprays more than any of their other products. But we have never burned one of their candles in all honesty.
Conclusion
As I mentioned earlier, there are many different Disney-scented candle companies out there right now. Out of all the companies that we have tried we prefer Magic Candle Company because of their wide variety of scents and the fact that they fill a room to transport you to Disney. No matter what company you try, I am sure you'll find one in this bunch that offers the scent you are looking for in one form or another. If not, you could always send them a message and give them your idea for a new scent!